About US
Statement of Faith
We are a ministry committed to the Lordship of Christ and each other. We recognize that the development of Christian character must of necessity be an individual and a corporate endeavor. We believe that God communicates with man; that it is His intention to reveal Himself and His ways. The following are some of the standards and values to which we are committed:
We believe that the Bible is the inspired word of God; that God, through the Holy Spirit, moved upon the authors of the Scriptures in such a way that they faithfully, accurately, and completely recorded all that God intended them to record-, that the Scriptures are a reliable, accurate, and fully trustworthy account of God's nature and character, of His actions in human history, of His laws, and of the life and teachings of Jesus Christ. We affirm that the Scriptures are to be the standard of faith and practice by which the life of the church and the lives of its individual members and their families are to be governed. We also affirm that the Scriptures are the standard by which all revelation and tradition is to be judged. We believe that there is a progressive aspect to God's revelation - that there are areas of truth which are taught in Scripture, but which we do not fully understand until the Holy Spirit further illuminates them.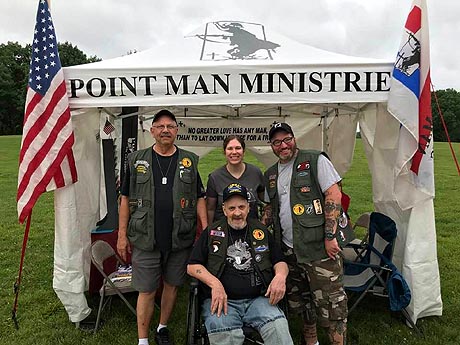 Mission Statement
PMIM is a service organization with an evangelical purpose. Keeping Jesus Christ the focal point PMIM acts as a referral service to connect hurting veterans and their families to our Outpost and Home Front system for continued support and fellowship. These support groups are available at no charge, and utilize the gospel of Jesus Christ and Biblical principles to facilitate healing and restoration. PMIM participates in national conferences and international publishing, radio and television as well as other forms of media to help educate and raise awareness of the needs of veterans around the world. We provide evangelistic materials, leadership training seminars, restoration conferences and support outreaches as missionaries to a target group (active duty soldiers, veterans and their families). PMIM is an interdenominational mission-oriented ministry. We embrace any Christian denomination that agrees with the basic evangelical statement of faith established by the Corporate Board of Directors of PMIM.